Keeping Elderly Joints Supple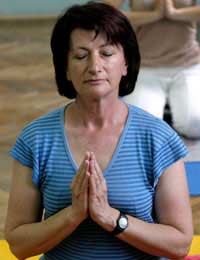 As you get older, it's common for your joints to become stiffer, which can limit your mobility. This varies from person to person - you may start to feel the true age of your joints after you turn forty or fifty, while other people around you may still be fully mobile at eighty-five. If stiff joints are affecting your mobility, there are several things that you can do to keep your joints loose and supple.
Stretching Exercises
These can help to keep your joints supple. The key to doing these successfully is not to push yourself too hard. Simply rotating your shoulders, wrists and ankles, bending your elbows and knees slightly, bending forwards, backwards and sideways, lifting your legs out in front of you, behind you and to the side of you and wiggling your fingers. As with all exercises, try not to overdo these stretching exercises, as it's all too easy to pull muscles, especially if your body isn't used to them.
Yoga
You might feel that yoga is too intense for you, especially if your mobility is starting to go downhill, but isn't always the case. Exercises like yoga and Pilates can help to keep your joints supple. They also have the added benefit of improving your balance, which can help you to avoid accidents caused by your reduced mobility.
However, if you suffer from painful joints due to conditions like arthritis, it's probably best to avoid exercises like yoga, as they can actually inflame the situation even more.
Other Exercise
Gentle exercise is a good way to keep your joints supple. Avoid exercise that is too strenuous though, as this can put unnecessary pressure on your joints, which can easily weaken them. Swimming and cycling are often recommended, as they are kind to your joints. Check to see if your local swimming pool offers hydrotherapy, as this is often a good way to strengthen your muscles. As well as being good for your joints, gentle exercise is also good for your all-round health.
Even if you suffer from a painful joint condition like arthritis, you should still try to do some form of exercise every day. Sometimes, this won't be possible due to the stiffness and inflammation, in which case, you shouldn't force the issue - rest is far more beneficial to your joints.
Keeping Warm
A lot of older people find that their hands and feet are stiffer in the mornings, especially in winter when the weather is colder. If you notice that this is happening to you, try putting a thin blanket over your hands and feet at night to keep them warm.
Supplements
These can be another good way to keep your joints loose and supple, especially if you take Cod Liver oil on a regular basis. See our articles on 'Using Supplements (e.g. Cod Liver oil) in Old Age' and 'Nutrition for Healthy Bones and Joints (exc. Supplements)' for more information on how your diet can be beneficial for your joints).
Keeping your joints strong and supple is a great way to improve your mobility, but it won't necessarily prevent the development of joint conditions like arthritis as you get older, as this is an auto-immune condition (which your body has no real way of preventing). For more information on arthritis, see our article on 'Coping With Arthritis'.
You might also like...