Nutrition Advice for Healthy Bones and Joints in Retirement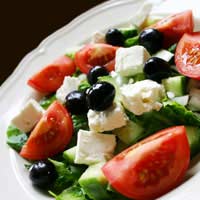 Healthy bones and joints are an essential part of staying mobile in later life. This can be largely affected by your diet and lifestyle choices earlier in your life, but fortunately, it's not too late to start redressing the balance. Taking in the right nutrients from your diet can go a long way towards improving the state of your bones and joints, and prevent problems further down the line. A balanced diet promotes a healthy bone mass and strong bones, as well as improving recovery after fractures. It also reduces the chances of having a fracture reoccur. If you've already run into problems in this area, some nutrients can help fractures to heal more quickly.
Calcium
Most of the calcium in your body is contained in your bones. Your bones retain calcium, which maintains the blood's calcium levels. This has a positive effect on your muscles and nerves. As calcium absorption declines as you get older, you need more calcium to have the same effect. This is particularly important for post-menopausal women. Experts suggest that this group need around 1200mg of calcium every day.
Foods that are good sources of calcium include:
Milk
Yogurt
Ice cream
Cheese
Salmon and sardines (with bones)
Dark green vegetables
Dried beans
Calcium-fortified orange juice, cereal bars and fitness water
Vitamin D
Vitamin D has an indirect effect on the health of your bones, as it aids calcium absorption.
Good sources of vitamin D include:
Direct sunlight
Liver
Fish liver oils
Oily fish
Egg yolk
Vitamin A
Vitamin A can reduce bone fractures, but be careful not to take too much, as it can be poisonous in large amounts.
Good sources of Vitamin A include:
Liver
Carrots
Mangoes
Spinach
Cantaloupe melon
Dried fruit
Milk
Egg yolk
Mozzarella cheese
Vitamin C
Vitamin C is an antioxidant, and it can play a big role in keeping bones healthy.
Good sources of Vitamin C include:
Citrus fruits
Strawberries
Broccoli
Brussel sprouts
Peppers
Cantaloupe melon
Potatoes
Vitamins A, C and E
This combination of vitamins is needed to help prevent joint trouble. Fruit and vegetables contain a range of vitamins.
Magnesium
Good sources of magnesium include:
Phosphorous
Good sources of phosphorous include:
Wheat germ
Bran
Nuts and seeds
Cheese
Ginger
This spice can help to improve the health of your joints.
Things to Avoid
There are several lifestyle factors that can have a negative effect on your body's absorption of these vitamins and minerals. These include:
Drinking alcohol
Drinking tea and coffee
Smoking
Drinking tea and coffee is acceptable, but leave an hour either side of meals, as drinking it close to or with meals containing vital vitamins and minerals can result in them not being properly absorbed into your bloodstream. This effectively means that you might as well not bother incorporating them into your diet, as your body won't fully benefit from them. In some cases, your body may not feel any benefit from them.
Making sure that you get enough of the right vitamins and minerals to keep your bones and joints in the best possible condition is fairly simple and can make a big difference to the state of your bones and joints, and your body in general. You can take supplements, but many experts suggest this only as a last resort, as they see 'the real thing' as the preferable option.
You might also like...