The Benefits of Keeping an Active Mind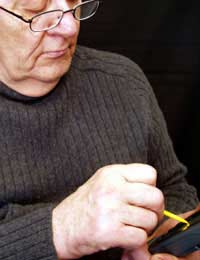 As you get older, keeping your mind active and healthy can become a big challenge. Your mental abilities generally decrease with age, particularly if your brain is not stimulated much. If your mind is not healthy and active in later life, you can have an increased chance of developing dementia (otherwise known as Alzheimer's Disease). As well as age, your mental abilities can be affected by medical conditions and any medication that you are on to treat these.
Fortunately, there are several things that you can do to counteract natural decreases in your mental abilities. This can include involving yourself in puzzles and games that stimulate your mind and improve your memory, learning a language, taking a course in a subject that you find interesting, or taking up a new hobby. All of these things can go a long towards keeping your mind active and healthy in your retirement. Our other articles in this section can offer advice on this.
Warding Off Dementia
Research from the US has indicated that you may be able to delay the development of dementia by helping your mind to stay active. Dementia is one of the most common reasons for losing your mental abilities in later life. Continuing the learning process throughout your life can help your mind to stay younger than it otherwise would.
Improving Your Memory
Many people assume that your memory automatically deteriorates as you get older, but this is not necessarily true. Through training your mind, you can train your memory to improve. There are several mental exercises that you can do to improve your memory, including memorising list of names or numbers or playing games that require you to test your memory (for example, seeing several pairs of cards for ten seconds and matching them up again). Improving your memory can also improve your concentration as it helps your mind to become more alert.
Improving Your Overall Health
A healthy mind can work wonders for improving your general health. Nutrition is believed to play a key role in keeping your mind healthy and active, and a good diet is essential for maintaining your general health. Recommended nutrition for an active mind includes fresh fruit and vegetables, salads, an adequate amount of carbohydrates and plenty of water (and fluids in general).
Some experts have suggested that several of the mental changes that were originally believed to be the result of getting older are actually caused by your lifestyle. This means that making the effort to keep your mind active and healthy through regular stimulation can have definite benefits for your mental abilities.
This can involve going back into education, taking home study courses, involving yourself in a new hobby or interest, doing stimulating puzzles (such as crosswords and Sudoku), playing games that require you to think (such as Scrabble or chess), reading books , exercising on a regular basis and using brain-training programs. Our other articles in this section can offer advice on using these to keep your mind active and healthy.
You might also like...
sir ,my mind remmber well about some time not remmber any thing what process that wi;ll i do
dipu
- 11-Nov-17 @ 11:16 AM