Learning to Use the Internet in Retirement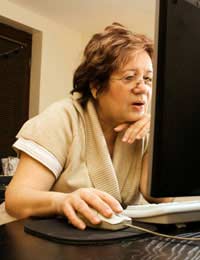 For someone who perhaps finds getting out and about a bit difficult, spending days and days at home can often be isolating and make issues such as communication or shopping difficult.
One of the solutions could be learning to use the internet. There is a growing army of 'silver surfers'; an older generation of internet user enjoying the benefits of being connected to the world wide web. From ordering the weekly shop to be delivered, to playing online games, writing letters via email or even just keeping up with daily news, the internet can offer those in retirement – with or without mobility issues – a welcome lifeline to the outside world. There are even websites dedicated to dating for those of retirement age!
Of course this means learning a new skill and for some, it means overcoming a fear of using computers. This can be a daunting prospect for many and not to be underestimated, but there is plenty of support available to help new users get started.
Choosing the Right Computer
The first thing is to ensure you have the right computer. Many websites – especially those running games or shopping sites – will mean that the computer needed to run these sites efficiently will need a good size memory. It's best to get advice from a family member or friend perhaps so that you understand what you need.
Computers depreciate in value very quickly as they develop and change so fast, so very often family members or friends may have an old computer they no longer use – so ask around. They're not particularly cheap to buy new!
Larger computer stores will often have a specific customer service area where you can talk through what you need, exploring why you would use the computer – e.g for shopping or emailing – and be clear about the size of the space you have to keep it. Laptops take up less space but often have much smaller keyboards. If you have arthritis or rheumatism, check that the mouse you choose is the right size and shape to be comfortable for your hands.
Learning to Use the Computer
Facing your fears about using the computer will definitely be helped if there is someone who can give you a hand finding your way around, so ask for help from friends or family first. There are lots of self-help books aimed at new senior users. There is also Learndirect, which is a website that offers good learning opportunities such as online tutorials and games for new users.
In May 2010 there was a large 'Silver Surfers' event, with learning days dotted around the whole of the UK and there will be another similar event in 2011. But once you're online, there are self-help tools such as online games and tutorials that can help you overcome your fears and lack of knowledge when it comes to using the computer.
Another good place to start would be your local social services. Many local authorities have outreach services and may very well be able to offer some kind of support to help you get started. And you'll enjoy new found freedom connecting to the whole world!
You might also like...