Social Benefits of Playing Bridge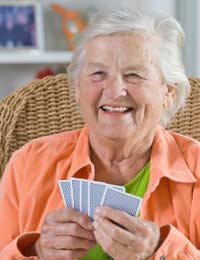 It might seem like a game that has become a cliché, a game that is perfect for those you are retired, but playing bridge is a really great way to engage with others and develop social relationships.
Bridge is a natural game of choice for those who have time on their hands. Often the games are long, and those still in work will find that they don't have time for it, so you will often find that other players are of a similar age to you. It's an excellent way to keep your brain alert too – bridge requires concentration. But because of the way the game is structured, each player also has a chance to rest and sit out periodically – a good chance for a cup of tea and a biscuit!
Bridge Clubs
The best way to start is to find a bridge club to you locally. Once you start to look around, you'll find that there are lots of clubs, even in rural or quiet areas. Contact the club, and let them know what kind of player you are – beginner, experienced etc – and they'll be able to advise you on the next step. The chances are they'll be able to link you up with other players, either of an equal or similar standard.
The clubs themselves will have days or nights where they open for players to attend the club and all play together. These events offer excellent opportunity for meeting new friends, and playing with a variety of different players. Many bridge players will have a partner, someone they play with regularly and with whom they have a good relationship when it comes to their game plan! But it's good practice to try and play with a few different partners.
Because of the average age of the bridge player, you will also be highly likely to find that bridge clubs are well equipped for access for those with mobility issues.
Playing at Home
Away from the club, you might find you'd like to play more often, and playing at home is a good option. Perhaps there are four of you who play together regularly – or perhaps a group of you who would like to play more often. This offers a good opportunity for players to take turns hosting games at home, enjoying a chance to have fun socially, but perhaps also to be more comfortable in your surroundings. For those who have mobility issues, check in advance about the homes you're visiting to make sure you can access them without any trouble. Perhaps as a group you could make special time to play each week on a certain day, offering those involved something to look forward to. If there are more than four of you, try to work out a rota so that everyone gets a chance to play regularly
Online Bridge
For those who enjoy surfing the internet or maybe have severe mobility issues, all is not lost! There are bridge games played constantly online, across different timelines all over the world, and you can log on and engage in a game of bridge 24 hours of the day, seven days of the week. As a sideline to the games themselves, the bridge sites offer a 'chat' facility, meaning you can talk to the other players and your partner online. It's an exciting way to make new friends and contacts too
You might also like...