Travelling Abroad With Mobility Problems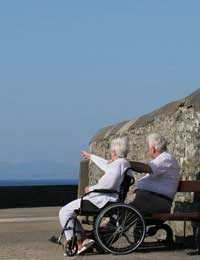 If you are suffering from mobility problems, the idea of travelling abroad can seem very daunting, especially if you will need to take mobility equipment with you. There are a few things that you need to consider before you book a holiday abroad.
Transporting Mobility Equipment
If you need to take your mobility equipment abroad with you, the most important thing is getting it to your destination (and back again). If you are travelling by car, this will not be so much of a problem, as you will be able to make sure that your mobility equipment fits into your vehicle. However, if you are travelling by air or coach, there will usually be weight restrictions for luggage that might prevent you from taking your mobility equipment on board. Check this before booking to avoid any unpleasant surprises on departure. If you inform them beforehand that you have mobility problems, they will often assist you with getting around or handling luggage at the airport (or other departure point).
Hotel Facilities
Not every hotel will have the facilities to accommodate mobility wheelchairs or scooters, so it is best to check whether this is the case before you book. If they do not have the right facilities to accommodate you, you might find it difficult or impossible to manoeuvre mobility equipment into dining rooms, lounges or in and out of lifts. If you inform the hotel of your requirements when you book, you may stand a better chance of being allocated a room on the first floor (if there is no lift in the hotel).
Getting Around
Depending on where you are staying, the local area may not be conducive to using mobility equipment to get around. In some areas, there are few or no pavements, and it may be necessary for pedestrians to walk along the side of the road. There may not be enough room for mobility wheelchairs and scooters to safely travel along the roadside. Narrow side streets, cobbled roads or steep slopes may also pose mobility problems. It is a good idea to read up on the local area as much as possible before you book your holiday so that you are well prepared for any difficulties that may arise.
In some countries, the usual method of crossing the road is via the crossings (which are characterised by black and white stripes on the road). Not all drivers will automatically stop to let you cross the road, and in some countries, drivers can be notoriously impatient. If this is the case, they may sound their car horns or drive right up behind you to pressure you to cross the road quicker, especially if you are using slow-moving mobility equipment or are using a walking stick or frame.
Travel Insurance
It is always advisable to take out travel insurance before travelling abroad, but this is particularly true if you have mobility problems. There are some companies who will provide insurance specifically for travellers with disability problems, but cover can be quite expensive, so be prepared to pay extra for the piece of mind of knowing that your mobility problems are covered.
You might also like...