Staying in Touch With Family and Managing Visits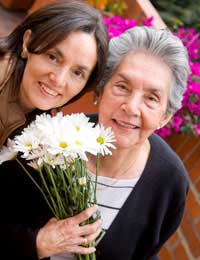 It's important to keep in touch with friends and family as the years pass, but for those with mobility issues, that can seem daunting sometimes. It's tempting to expect that they visit you rather than going to them... perhaps you have special requirements in terms of space for getting around, for example you might have a mobility scooter, wheelchair or even walking frame which can make moving around in other peoples' houses difficult. Perhaps it's just really hard work to get in and out of a vehicle.
Your friends and family may well understand this and be happy to visit you regularly, but it's also important and can be enjoyable to get out of your own home sometimes. A change of scenery can be a real boost if you spend a lot of time at home alone, and sometimes just getting out for a short visit to another's home can be a really positive experience. It also helps those who are younger, and have very busy lives – perhaps with full time work and children – to see more of you too.
Whatever the issue, it can perhaps seem overwhelming but with support and planning, it can be overcome and you will be able to enjoy getting out and about to see other people.
Plan Ahead
The key with making visits is to be prepared. Make sure you leave time to plan for the trip and ensure that this date is suitable for the others. And make sure you've worked out what equipment you will need along the way.
If you're planning a short trip a few roads away in your mobility scooter, for example, make sure you charge it fully before setting off, and make sure you've enough power to get home too! Travelling further afield by car, taxi or mobility vehicle? Check ramps or equipment for getting in and out of the vehicle, make sure you know where you're going, and when you plan to return. Make sure you book your transportation.
Ensure that when you arrive at your destination, you can operate any mobility equipment you need at the other end. It's no good travelling to see a friend if you can't then get into their house! With support from those you are visiting, it's usually true that most mobility issues can be overcome. But if it's really difficult – say they live in a very small upstairs flat with no lift – then it might be worth arranging to meet somewhere close by instead – a nice pub restaurant perhaps with good accessibility.
Visiting Further Afield
If you're planning a visit some distance away or even abroad, then even greater consideration is needed. What is the destination like for those with mobility issues? Is there space to use wheelchairs or scooters? Lifts, rather than stairs. Each step of the journey takes careful planning but public transport will be able to assist. Trains, buses and planes all offer support to those with mobility issues, so make sure you plan that in with them, and they can meet you along the way to help ease your passage.
You might also like...