Servicing, Taxing and Insurance Your Vehicle in Retirement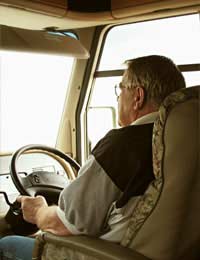 Servicing, taxing and insuring your car in retirement isn't a lot different to any other stage in your life. In terms of car insurance though, experienced driver may qualify for reduced premiums.
Servicing
You need to book your car in for an MOT every year, but this doesn't necessarily come cheap, especially if you're living on limited means (for example, on a pension). Thankfully, you can get help with this. If you're a member of the AA, you can get money off car servicing (15%), MOTs (33%) and other repairs (5%) at Nationwide Automobile service centres.
If you book your car's MOT test for within a calendar month of the MOT's certificate's expiry date, the validity of the certificate is extended for one year after the expiry date. To put this in practical terms, if your expiry date is 29th October, you need to bring the car in for an MOT between the 29th September and the 28th October (to be on the safe side). The certificate will then expire on the 29th October one year later. You'll need to let your test station see the certificate to make sure of this, so that they can transfer the serial date to the new certificate. If the car is going for its first ever MOT, you'll need to show them the registration documents. If the car goes for its MOT at least one calendar month before the expiry date, the new expiry date is one year after the MOT.
A garage with a Vehicle Builders and Repairers Association or Motor Vehicle Repairers Association badge is a good bet, as they are required to abide by codes of conduct and practice.
Taxing
You should get a V11 form from the DVLA (available from Post Office branches that issue tax discs) three weeks before your tax disc expires. You can take the completed form to the branch along with your insurance certificate, your valid MOT certificate and payment (unless your car or vehicle is exempt). Alternatively, you can send these to the address on the form.
If you're in the disabled tax class, you need exemption certificate DLA404 (for the Disability Living Allowance) or WPA442 (for the War Pensioners' Allowance). These must be valid on the day in which your tax disc is issued. If it has expired, you'll need a new one before you can send off a new tax disc.
If you don't have an exemption certificate, you'll need to send off for one. The vehicle must be registered in your name or in the name of a nominated driver (who will be driving for you, as long as the vehicle is only used to transport you). You can get one from the Agency who issues your benefits.
The first time you tax in the disabled class, you need to take your exemption certificate and Registration Certificate to a Post Office branch that issues tax discs. You'll also need a V10 form.
To renew your tax disc, the same rules apply as in the first paragraph of this section. Alternatively, you can tax online or over the phone for convenience.
Insurance
Car insurance is compulsory in the UK, and you're obliged to carry your certificate of insurance with you in the car at all times to prove that you have an insurance policy. Car insurance covers you against accidents and if your car is stolen, but the exact nature of the policy depends on your personal level of insurance, as offered by your provider. Most car insurance policies cover you against third party and theft, but the higher levels of insurance will cover you against many other things.
Experienced drivers are able to get less expensive car insurance premiums. For every year that you don't make a claim on your car insurance, you receive an extra year of no claims discount, and this has a significant effect on reducing your car insurance premiums. Some car insurance providers let you pay a small amount of money that entitles you to make 'x' number of claims before your no claims discount is affected.
As well as this, more experienced drivers (over the age of fifty) are often entitled to a discount on their car insurance premiums. Shop around for a provider that offers this, as it's another simple way to lower your premiums.
If your annual mileage is on the low side, your car insurance premiums will be even less.
You might also like...