Travelling Abroad With Mobility Equipment: a Case Study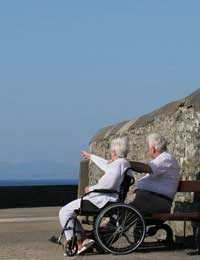 When Jane Jackson* was diagnosed with rheumatoid arthritis, her mobility started to go rapidly downhill. Unwilling to miss out on the chance to go on holiday with her family, Jane recognised that her only option was to take her mobility equipment with her on her travels.
Weight Concerns
Jane and her family were travelling by coach to Europe as part of their holiday. The coach company with which they were travelling had recently put in place some tight restrictions regarding luggage limits and the weight of suitcases, and she was concerned that they may refuse to transport her manual wheelchair on weight grounds. She says, "The coach company had written to me to say that their new weight restriction policies would only allow one large suitcase and one medium suitcase, plus hand luggage. As this was already going to be the case, I was worried that they would refuse to allow my wheelchair as well, given the added weight it would involve. Thankfully, they agreed to do so though".
Hotel Facilities
When they arrived at their hotel, Jane was not sure how geared up it would be for wheelchair users. She says, "The brochure described it as a wheelchair-friendly hotel, but I still had plenty of reservations about whether I would be able to get around the hotel in my wheelchair if I needed to. It wasn't until we got there and I saw the place for myself that I began to relax!"
Although the hotel was mostly accessible to wheelchair users, there were still some problems with getting around all of its facilities. As Jane recalls, "On the whole, the hotel was as wheelchair-friendly as it was described as I had little problem manoeuvring the wheelchair around most parts of the hotel. However, I had problems negotiating the dining room, as there was not enough space between the tables for a wheelchair to pass through easily. Luckily, the hotel were very accommodating in that they arranged for us to sit at a table close to the door so that this wasn't necessary. As the hotel's dining room staff brought the plates to and from the tables, this made things much easier for wheelchair users".
Exploring the Local Area
Unfortunately, Jane did not find the local area very conducive to using mobility equipment. Most of the streets had uneven pavements which made getting around using her wheelchair unstable and potentially dangerous. This was not the only difficulty that she encountered though. She says, "There was only a pavement on one side of most of the roads. This meant that the only safe option was to cross the road to use the pavement on the other side of the road. While this was simple enough as there was a crossing just down from our hotel, it was often difficult to get back across to the other side of the road, as crossings were not as common as they would be in the UK".
An added problem for Jane was the fact that crossings tended to be zebra crossings (rather than pedestrian crossings). While drivers are supposed to stop if someone is waiting to cross, they would often just carry on regardless. Crossing in her wheelchair took longer than many drivers were prepared to wait, which meant that some repeatedly beeped their horns or revved their engines in the mistaken belief that she could speed up.
*Names have been changed to protect identity
You might also like...