Exercising in Retirement - Concessionary Schemes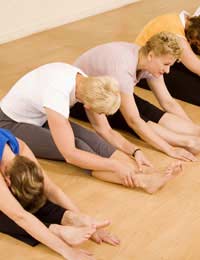 Concessionary exercise schemes allow those who are aged over sixty to qualify for reduced charges for using exercise facilities such as swimming pools and gym facilities. Some leisure centres offer free swimming to the elderly and the disabled at certain times of the day or specific days of the week. Those who are aged under sixty can still sometimes qualify for concessionary exercise schemes if their doctor has requested that they take part in regular exercise due to health problems.
Finding Concessionary Exercise Schemes
Not all leisure centres will offer a concessionary exercise scheme. If yours does, it should be advertised somewhere in relation to the membership rates, and application forms will be available within the leisure centre for those who qualify. In some cases, you may be able to apply online through your local council.
Contributing to the Scheme
In the majority of leisure centres, you will be required to pay a small charge to qualify for a concessionary exercise scheme. This is due every year when you renew your membership.
Providing Proof of Eligibility
At the same time, you will need to provide some proof that you are eligible for the scheme, and you will need to present this each time you renew your membership in case your qualifying circumstances change. For those who qualify because they are aged sixty or over, this will obviously not change, but you are still usually required to present some form of evidence. You may also be required to provide evidence that you are living within a certain distance from the centre.
Savings
The amount of money that you will save from opting into a concessionary exercise plan varies, but the average concession is around 40%.
Exercise Referral Schemes
If you are at risk of serious health problems like obesity, strokes and heart problems, your GP may allocate you to an Exercise Referral Scheme. Alternatively, a practice nurse can also refer you. This programme is designed to encourage physical activity in those whose medical condition could benefit from participating in regular exercise. These usually involve meetings several times a week to work through a specially devised exercise plan that has been individually tailored to you.
If you qualify for concessions, you are eligible for a reduced cost per session. The main benefit of this scheme is the opportunity to embark on an exercise plan that has been designed specifically with your situation in mind, although the downside is that you need to have a fairly serious (or potentially serious) health problem to be referred in the first place.
Most areas have an Exercise Referral Scheme, but if this is not the case in your area, you may need to be referred to a centre that requires you to travel in order to get there. Depending on your medical condition, this may prove problematic or even impossible, which will obviously require rethinking.
Concessionary exercise schemes encourage you to take part in exercise more regularly due to the reduced rates. Most of the time, you will need to live in the local area to be eligible for the concessionary scheme at your nearest leisure centre.
You might also like...