Choosing a Wheelchair as a Retired Person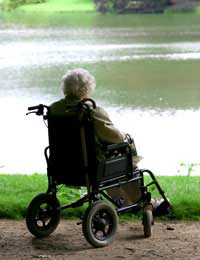 Choosing the right wheelchair from the many types on the market can feel overwhelming, but this doesn't have to be the case. The biggest choice is between manual and powered wheelchairs. Powered wheelchairs may seem like the preferred option, but they are often heavier than their manual counterparts, and are dependent on battery life. However, not everyone is physically capable of powering a manual wheelchair, so you might find that your physical condition determines the type of wheelchair that you use.
Powered wheelchairs
The most basic type of Electric Powered Indoor and Outdoor Chair (EPIOC) is just a regular wheelchair seat with joystick and motor controls to control the speed and direction. Some models have additional extras to provide more comfort, but you'll have to pay extra for these. These additional extras can take the form of the ability to go upstairs and steps, which are useful to people with severe disabilities and mobility problems.At the most basic level, you can expect to pay at least £2000. At the most advanced level, some models can set you back a whopping £20,000!
If you have a muscle-wasting condition, a special seat is essential. In many cases, this will have to be designed with your individual requirements in mind to ensure that it provides enough comfort and support. If the seat doesn't provide enough support, your spine can start to curve to the side (which will require corrective surgery), so this is highly important. Even after corrective surgery, it can still return if your chair doesn't offer enough support.
A wheelchair that offers the ability to tilt in space can help you to maintain the right posture so that neck and hip curvatures are less pronounced, and muscles waste less quickly. This feature allows you to change your position in the chair to make yourself more comfortable.
If you can walk a few steps (to get to a bed or toilet, for example) but cannot get in or out of seats of standard height, an elevated seat is a good option. Some elevated seats allow you to reach upwards, which is invaluable if you have weak arms.
Check the battery life on your EPIOC, as they vary a lot. Some models have a battery life of just two miles, which doesn't let you travel too far. Recharging can take up to twelve hours, which is problematic for those who rely on their powered wheelchairs for everything.
Make sure that your EPIOC can travel at walking speed. For crossing at pedestrian crossings or just for crossing the average road, you'll only have so long to get across before it becomes dangerous, so the speed of your EPIOC is important.
Manual wheelchairs
As manual wheelchairs are lightweight (compared to powered wheelchairs), they can be easier to manoeuvre, especially when it comes to climbing kerbs and steps.
Armrests are strictly optional for manual wheelchairs, as they can hinder the act of turning the wheels. However, they do help to prevent problems with your spine, particularly over the course of many years. They can also provide upper body support.
You can now buy wheelchairs with suspensions. These can help to reduce the vibrations that occur when you travel over bumps in the pavement and road. However, it can also reduce the pushing efficiency of the wheelchair, so you may find yourself having to work harder to cover the same distance. This is obviously not a good idea for people with limited strength in the upper body.
Titanium frames are more expensive than their aluminium counterparts, but they last longer and are less heavy, which makes them easier to transport.
For tyres, you can choose to have removable tyres, which lets you put on an indoor tyre for indoor use and an outdoor tyre for outdoor use. This can help your wheelchair to adapt to the different conditions in each situation.
You might also like...