Choosing the Right Home for Your Retirement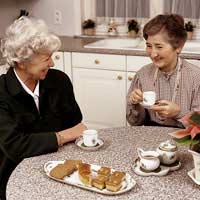 In an ideal world, most people want to see out their retirement in their own home but this won't always be an option. For example, you may be forced to relocate if you can no longer navigate the stairs or if your current property is too big and you need to downsize to a more manageable property. If retirement is forcing you to re-think your living arrangements, you need to think about how to choose the right type of home for your later years. There are a few factors that you need to include in your decision.
Type of house
Depending on how much you've got to spend on a new retirement home, your budget will determine what kind of house you can get for your money. The type and size of house may be largely out of your hands but there are still things to think about. For example, is the house going to need lots of repairs or is it ready to move into without needing much work to finish it off? Will the house be easy to keep warm or will you need to spend a small fortune on heating bills to make it habitable? Is there the option to adapt the house if circumstances change? If you suspect that climbing the stairs may become a problem for you, think about choosing a bungalow as your retirement property as this takes stairs out of the equation
Location
Your budget may play a big role in the location but it's important to feel comfortable in the area before you move there. Ideally, you should feel safe and secure when getting around. If you're moving away from family and friends, consider how easy it will be for them to visit and vice versa.
Amenities play a key role in determining whether a certain location is right for you. Many retired people find it harder to get around in later life so it's wise to choose a location that has amenities close by. Even if you are currently able to get around easily, this may not always be the case and you don't want to find that you're unable to get to places like the shops or the bank because they are too far away to get to. It's also worth bearing in mind that health problems mean that you and your partner may not be able to drive as your retirement progresses; so it's a good idea to choose a location with amenities in walking distance wherever possible or on a regular bus route so that you can still get to them without a car.
Choosing the right home for your retirement often involves thinking one step ahead at what you may need further down the line. The type of house that fits your needs in early retirement may be completely unsuitable in later retirement so it's not always a good idea to base your choice on what suits your needs at the very start of retirement. However, the decision may be made for you if you've already got specific needs that have forced you to re-evaluate your choice of property in retirement.
You might also like...